Modern, full-service payroll
Help us help you
Gusto's smart, modern tools help us advise you as efficiently as possible.
Priced for your business
No hidden fees. Gusto delivers big company service at a price small businesses can afford.
Designed for you and your team
Gusto's easy-to-use dashboard makes finding payroll and tax documents a snap.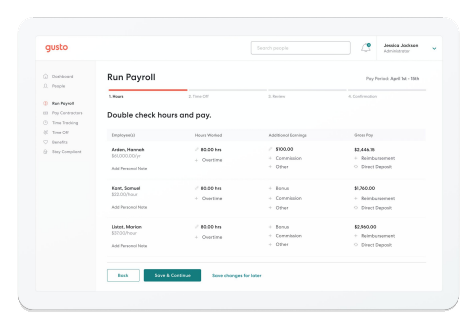 Want to grow your business?
Unlimited monthly payrolls. Pay your team every week, or use different pay schedules for different employees, with no extra charge
Track time, in no time. PTO reporting and time-off requests integrated with payroll
Workers' comp with no lump sums. Set up your workers' comp policy online, then pay as you go instead of all at once
Interested in Gusto?
Contact us today to see how we can help you.

So much more than payroll
Support your team with health insurance, 401(k), workers' comp, an employee dashboard, plus powerful
integrations – all in one place
We are a Gusto Gold Partner
That means we have more than 50 clients using Gusto. So we're experts on how Gusto helps small businesses grow
Tame the chaos of payroll, benefits and HR
Gusto is simple online software that makes complicated business tasks easy.